Briefly on Almaty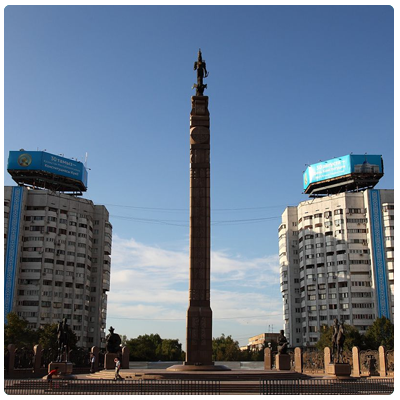 Almaty is the Kazakhstan's largest metropolis, scientific and educational, cultural and historical, economic and financial, banking and industrial center of the country. The name of the city, Almaty, is translated as "the city of apples".
Almaty is situated in the center of the Eurasian continent, in the south-east of the Republic of Kazakhstan, at the foothills of the Trans-Ili Alatau Mountains, the northernmost ridge of the Tien Shan. The urban territory of Almaty has more than eight thousand hectares occupied by gardens and parks, squares and boulevards. The total area of the city is 340 km2. The city's population is about 2 million inhabitants. There are representatives of many religions and different nationalities.
Nowadays in Almaty there are 18 theaters, 45 museums and art galleries. It hosts many festivals of different areas of music: jazz, rock festivals, retro festivals. The special status of the city provides that in Almaty head offices of the largest banks in Kazakhstan and subsidiaries of multinational financial institutions and companies are located. There are the National Academy of Sciences of Kazakhstan, Central Asian Geographic Society, Observatory "Kamenskoe plateau", as well as many leading universities and research institutions.
Many sports complexes such as the Medeo skating rink and Chimbulak ski center, alpinist and tourist camps, health resorts, resort hotels, and campings were constructed on the outskirts of the city. Almaty obtains the international recognition thanks to such prestigious events as "Asian Games 2011", World Boxing Championships, stages of World Cup in judo and ski jumping, a stage of world "Grand Prix-2013" in volleyball and professional cycling race "Tour of Almaty". Almaty will host the World Winter Universiada of 2017.
For more information about Almaty, you may wish to visit the links below:
Official home page of Almaty: http://almaty.gov.kz/page.php?lang=2
Official tourist web-site of Almaty: http://visitalmaty.kz/z210/
Wikipedia site: https://en.wikipedia.org/wiki/Almaty